Everest
Burger

My husband brought home Everest burgers today with some fries and fried zucchini. He got the pastrami burger and I got the cheeseburger. I was really in the mood for one and I hardly ever eat them anymore, which might be why I have such high expectations.

The cheeseburger looked pretty good, except for the patty which was sadly anorexic. I liked the thousand island dressing on it. That makes it taste like a real old-fashioned burger. The bun didn't taste fresh. The burger was O.K. but not the grand feast of juicy charbroiledness I was anticipating.

The biggest disappointment was the fries. They're really thin-cut, which wouldn't be a bad thing except I couldn't taste anything but oil. They were bubbly, too. Maybe they were left overs and they refried them? Not good. Actually pretty bad.

My husband always gets their fried zucchini and thinks it is delicious. I disagree. Thank goodness it comes with ranch dressing. The batter is crunchy, which is good, but haven't they ever heard of spices? It has no flavor at all.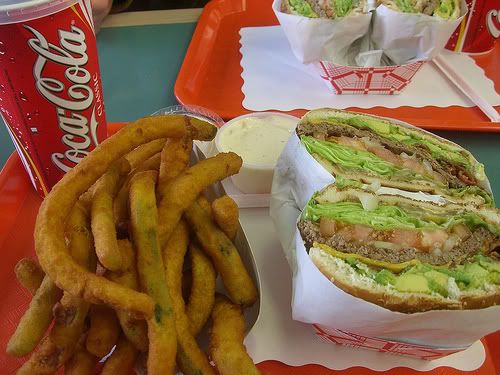 I didn't get to taste the pastrami burger but it looked good. It had the same thin patty as the cheeseburger and a nice healthy pile of pastrami. Hubby said, "Mmm" at least twice whilst munching his lunch.
I'm new to this area and would be very grateful if someone could point me in the direction of a better burger than Everest.
photo from flickr.com